CompTIA CASP+ (CAS-004): Practice Tests [Free]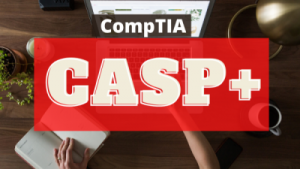 About Course
CompTIA CASP+ CAS-004 Practice Tests – are selected CompTIA CASP+ CAS-004 exam questions to ensure your success.
These CompTIA CASP+ CAS-004 practice questions are the perfect for you if you are intending to take the CompTIA CASP+ CAS-004 Exam and want to know what sort of questions will be on the CompTIA CASP+ CAS-004 – Real Exam.
Knowing the cutting-edge basics of Advanced Security Practitioner implies you're CompTIA CASP+ certified. CompTIA CASP+ certification is a valuable and well-respected credential that businesses value and may help you obtain your first IT job. Staying on track, gaining experience, new certifications, and education will allow you to excel in your job and meet your financial objectives.
The CompTIA CASP+ certification is the greatest place to begin your IT career. It may assist you in obtaining your first IT job and putting you on the road to IT success.
This practice test course has been created for those students who are preparing to take the CompTIA CASP+ exam in the near future.
This practice exam will offer you complete confidence in your ability to pass the actual exam.
The practice test should be used in combination with your exam preparation. Read the study guide's topics and then try your hand at the practice questions for each area.
Remember that the CASP+ certification is meant to assess practical experience, so make sure you obtain some hands-on experience with the security technologies included on the exam. To prepare for the CASP+, CompTIA advises using NetWars-style simulations, penetration testing and defensive cybersecurity simulations, and incident response training.
Because the exam uses scenario-based learning, expect the questions to involve analysis and thought, rather than relying on simple memorization. The questions in this book are intended to help you be confident that you know the topic well enough to think through hands-on exercises.
The most recent CASP+ exam objectives take into account the most recent advancements in cybersecurity architecture and engineering. There's also a lot of attention paid to current themes like governance and compliance, which is greatly required.
Show More
What Will You Learn?
This practice test gives you questions that are very close CASP+ exam

A detailed explanation of the questions to enhance the knowledge

Evaluate your preparation before the exam
Course Content
CASP Practice Set 1
CASP Practice Set [90 Questions]